Click on the Outfitter Name to go directly to their website for complete pricing information, etc.
Our trophy elk hunts take place from northern British Columbia to New Mexico. In many cases, private land is the key to quality elk hunting. Right now, with the booming wolf populations in Montana, Idaho, and Wyoming, the elk hunting is nowhere near what it once was. If you have questions about which of these elk hunts is right for you, simply call John Andre, SWATS owner, for a consultation.
---
A Bar Z Outfitters
:
This hunt with Bill Dubois has long been one of British Columbia's best. High success rates on good bulls. Horseback hunt, cabin accommodations. First class hunt.
---
A Double J Outfitters:
First class hunting in the beautiful Big Horn Mountains of northern Wyoming with Rusty and Chris Bogers. Hunt is based out of Buffalo, WY. Offers fully guided rifle and archery hunts, as well as semi-guided rifle hunts. Can hunt elk only, or elk/deer combo hunt. 6 day hunts. All archery hunts are 1x1, rifle hunts can be 1x1 or 2x1. National forest lands or private land hunts available. Wall tent accommodations. Archery hunting during the rut. Hunting done on foot and horseback at elevations of 7,000 to 10,000 feet. Accommodating to hunters of all skill levels. Great hunt.
---
Allen's Diamond 4 Ranch:
Hunt elk in Wyoming with Jim Allen. He offers both rifle and archery elk hunts, as well as hunting out of wilderness tent camps or hunting out of the home ranch. The wilderness hunts are classic horseback hunts, hunting altitudes from 9,000 to 11,000 feet. The hunt out of the home ranch is hunting desert elk at elevations of 7,000 to 8,000 feet. Hunts are fully guided, and price includes lodging, meals, guides and field care of your trophies. You will really appreciate the personal attention you will receive on this high success, quality elk hunt.
---
Anchor Bar Expeditons: Hunt the eastern slope of Alberta's Rocky Mountains, just two hours from Calgary. Outfitter Mark Parsons specializes in archery hunts, during the rut in September. Comfortable Cabin accommodations. Highly recommended hunt.
---
Anchor P Outfitters: Hunt one of Central Montana's finest private ranches. Excellent outfitters, with high success rates. 2012 hunters were 19 bulls for 20 hunters!!! Whitetail deer or mule deer hunting included.
---
Arnaud Outfitting: Hunt elk in Montana with Rob Arnaud on one of the many ranch properties he has available for hunting. These are premier elk hunting desitinations owned by Turner Enterprises, Inc. Many of these ranches are professionally managed for trophy elk. Rifle or archery hunts available with hunting from September through November. Whitetail, Mule Deer and Antelope can be added on to most of these hunts on a trophy fee basis. Visit the website for more details on the individual ranches available for hunting.
---
Backcountry Hunts: Hunt Unit 34 in southeastern New Mexico, with longtime outfitter Steve Jones. Teepee camps. Excellent outftter. High drawing success. High success rate hunts on nice bulls.
---
Big Nine Outfitters:
This great hunt in northern BC has long been a favorite here at SWA. Excellent outfitter, game rich hunting area. Hunts are 10 day (counting flying days), 1x1 guided. Price of the hunt includes elk, black bear, and wolf. One of our best wilderness elk hunting experiences.
---
Bliss Creek Outfitters:
Hunt elk with Tim Doud in the Washakie Wilderness of the Shoshone National Forest in Wyoming. Tim has guided and outfitted hunters for 29+ years. Camp is located 29 miles into the wilderness, and it consists of wall tents w/ propane lanterns, log beds with big comfortable mattresses and wood stoves. Camp also has a heated shower tent, and serves family style meals in the cook tent. 1x1 or 2x1 guided archery hunts during the month of September during the rut- these are true wilderness experiences, and not for the half-hearted hunter. Hunts are 8 days and your physical condition will determine how much your guide can do for you. 7 day 2x1 or 1x1 guided rifle hunts from October 1-21. You will be calling bulls, glassing and stalking and still hunting through timber. Lots of horseback riding and walking on this hunt. Also offers 5 day, 1x1 guided late season elk hunts during the month of November when the big bulls are migrating out of high fall range and out of Yellowstone National Park down to the winter range. You can also choose do to a 3 day cow elk hunt in November. Contact Tim for more details.
---
Bugle Basin Outfitters:
Hunt elk in the Kootenay region of BC, which is home to the highest population of elk found anywhere in the province. Hunt during the rut with either rifle or bow from the first week in September through mid October. There are 8 or 10 day hunts with each adventure being customized to your personal needs. Horses, hiking, ATV's or 4x4 hunt transport available. Cabins, wall tents, pup tents or lodge accommodations. Hunter may choose to add on black bear and wolf to the hunt. Elk hunt includes the harvest of a mule deer. Fantastic hunt with Alex Smutney.
---
Bull Basin Guides and Outfitters:
Hunt with this world class, trophy outfitter in Colorado. Dean and Susan Billington offer a variety of hunting options to suit every hunter along with the trophy quality game that you desire. The private ranches they manage consistantly produce the quality of game that you are looking for. Some of the hunt options include trophy elk only, or trophy elk and trophy mule deer combo hunts; archery, rifle and muzzleloader hunts; self guided, semi-guided and fully guided hunts; 1x1 or 2x1 hunting options; wall tents or lodges; do your own cooking or hire a camp cook; and both public and private land hunting. They even manage a Ranch that is part of the Ranching For Wildlife Program, allowing you to hunt rutting elk and mule deer with a rifle! Absolutely phenominal outfitter. You WILL NOT be disappointed with this hunt.
---
Circle KBL Outfitters
:
Located right on the Montana/Idaho border, Scott has hunts in both states. Idaho hunts are rifle hunts during the bugle season. Lodge and tent camp accommodations. Drop camps available. Excellent bowhunting as well.
---
Colorado Private Ranch Leases: The perfect hunts for the D.I.Y. hunter, these are Colorado ranches that you lease, along with your friends, for the entire season. Most include lodging. You do your own cooking, hunt on your own, and pack out your own game. The key is, private land all to yourself. If you are a good hunter, these hunts can save you a ton of money, while still assuring a quality hunt. Most ranches allow only 4-8 hunters for the year.
---
Continental Divide Outfitters
:
Hunt in the Salmon-Challis National Forest in Idaho in Fish and Game Management Unit 21 with licensed and experienced guides that have an intimate knowledge of the terrain, the wildlife and the history of the Salmon River Valley. Archery and Rifle hunts available, as well as an elk/deer combo hunt. 7 day, full service hunts available with wall tent accommodations.
---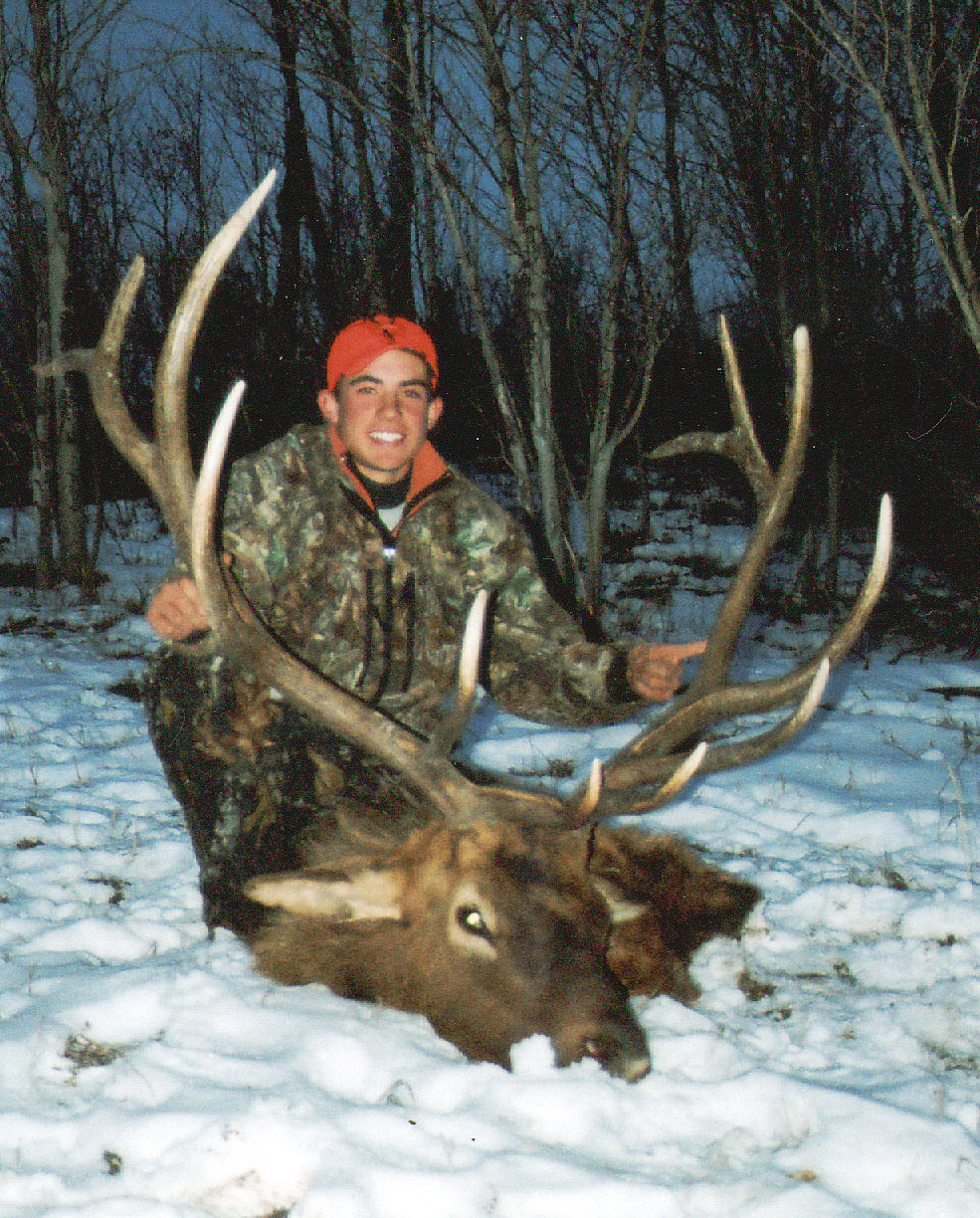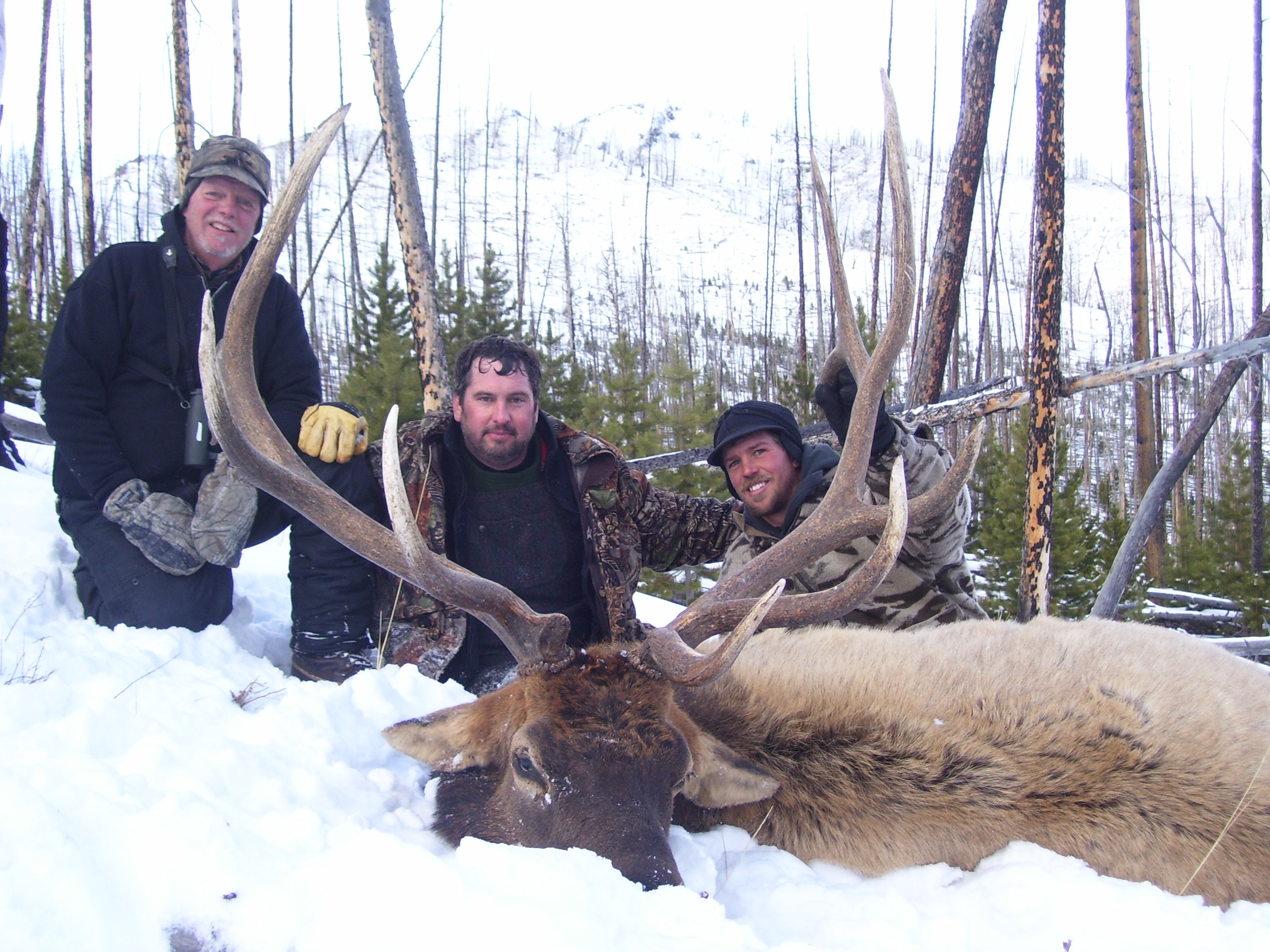 Crandall Creek Outfitters:
Wyoming wilderness elk hunt, located just outside of Yellowstone, north of Cody. High success rates on good bulls. This is one of the few areas near the park where the quality of hunting has held up well. Rugged horseback hunt. Great outfitters. For many years, we have considered this the best wilderness elk hunt in the lower 48.
---
Crossheart Outfitters: This is one of west-central Montana's finest private land elk hunts. Not a hunt for montster bulls, but good elk numbers, and a fine hunting experience. Comfortable tent camps, 4x4 trasnportation.
---
Dunham's High Caliber Ranch:
This is North America's best managed (high fence) elk hunting operation. Beautiful lodge, big bulls, nice people. Whitetails and Buffalo also available here. Dollar for dollar, the best way to take a 350 plus bull elk, without drawing a tag or spending tens of thousands of dollars.
---
Eagle Hills Outfitters: Hunt north-central Saskatchewan for trophy bull elk, with Don Johnson. High fence operation. Some of our best values for big trophy bulls. $4495 for a 340-370 inch Bull. $5695 for a bull in the 370-390 class. $6395 for a bull in the 390-410 class. Add 5% G.S.T. Three day hunts include lunch in the field. Hunters stay in a nearby motel. Hotel, breakfast, and dinner not included.
---
Findlay Creek Outfitters:
One of our longtime favorite elk hunts in the Purcells of southern British Columbia. September rifle hunts for big bugling bulls. Also excellent archery hunting the first nine days of September. Please book early. Horseback wilderness hunts and 4x4, semi-remote hunts, cabin accommodations, first class operation.
---